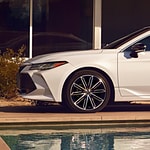 The daring design of the 2022 Toyota Avalon helps Leesville drivers make an entrance. This is the final year of production for the Avalon, and it has a lot of exciting features to offer. Hixson Toyota would like to focus on the exterior features for now.
There are now three trim levels to choose from for the Avalon, and all of them come standard with LED headlights. The XLE model is equipped with striking 17-inch alloy wheels, while the Touring models sit pretty on 19-inch black-painted wheels. As for the sophisticated Limited model, it has 18-inch chrome alloy wheels to show off.
Adaptive cornering headlights are an advanced feature that comes standard for the 2022 Avalon Touring and Limited. If you choose the Limited trim, your full-size sedan gains a sunroof. The Touring model is equipped with adaptive suspension dampers to improve both handling and comfort.