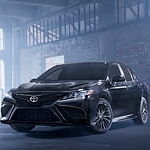 The 2022 Toyota Camry has made headlines this year. This vehicle has a stylish body and an interior that delivers everything you need in a vehicle. From intricate design features, a comfortable cabin, and luxury features, it's no wonder why so many people are interested in getting behind the wheel of this vehicle.
2022 Toyota Camry: Interior Overview
Cabin: The 2022 Toyota Camry may be a car, but don't let its size deceive you. Its spacious cabin makes it easy for drivers to sit back, relax, and enjoy a smooth ride.
Intricate Design Details: The Toyota Camry includes several distinctive interior features that makes this vehicle stand out. Drivers can choose between a bold red, tan or black interior seating with distinct accents throughout. Once you step foot into the Camry, you'll instantly feel a sense of luxury.
Sunroof: The 2022 Toyota Camry includes an expansive sunroof that covers the front to back of the vehicle for an elevated driving experience.