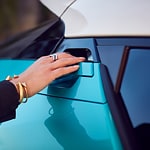 We at Hixson Toyota know that our customers crave the latest technology features when purchasing a new car. No one wants to feel like they are stepping back in time when getting in a new vehicle. Driving the new Toyota C-HR will give you a glimpse of the future thanks to its high-tech options.
You will be able to get instant help in an emergency when driving the new C-HR. The Toyota Safety Connect system will automatically connect you with an emergency response agent after the airbags are deployed. You can also push a button in the cabin to request roadside assistance to your location.
You can turn your new Toyota C-HR into a moving hotspot with the WiFi Connect System. High-speed internet is delivered to up to five devices at one time. This is a great way to entertain the kids or download important work documents as you drive around Leesville.